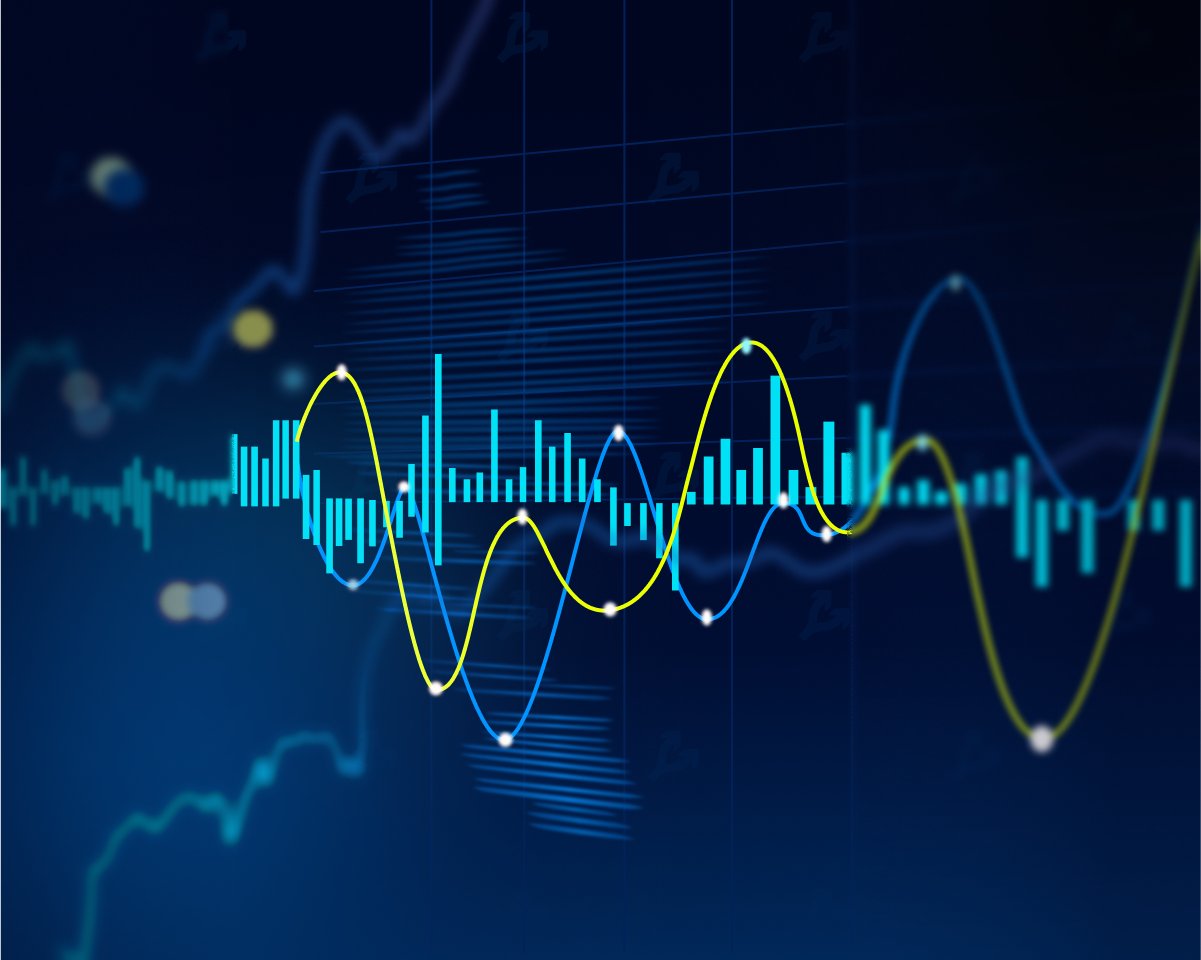 Disclaimer
Financial market forecasts are the private opinions of their authors. The current analysis is not intended to be a guide to trading. ForkLog is not responsible for the results of work that may arise when using trading recommendations from the presented reviews.
Nikita Semov, a practicing trader and founder of the Crypto Mentors project, talks about the current market situation.
It's time to assess what happened in February and how it will affect the current month. Let us also analyze a more local perspective for the current week.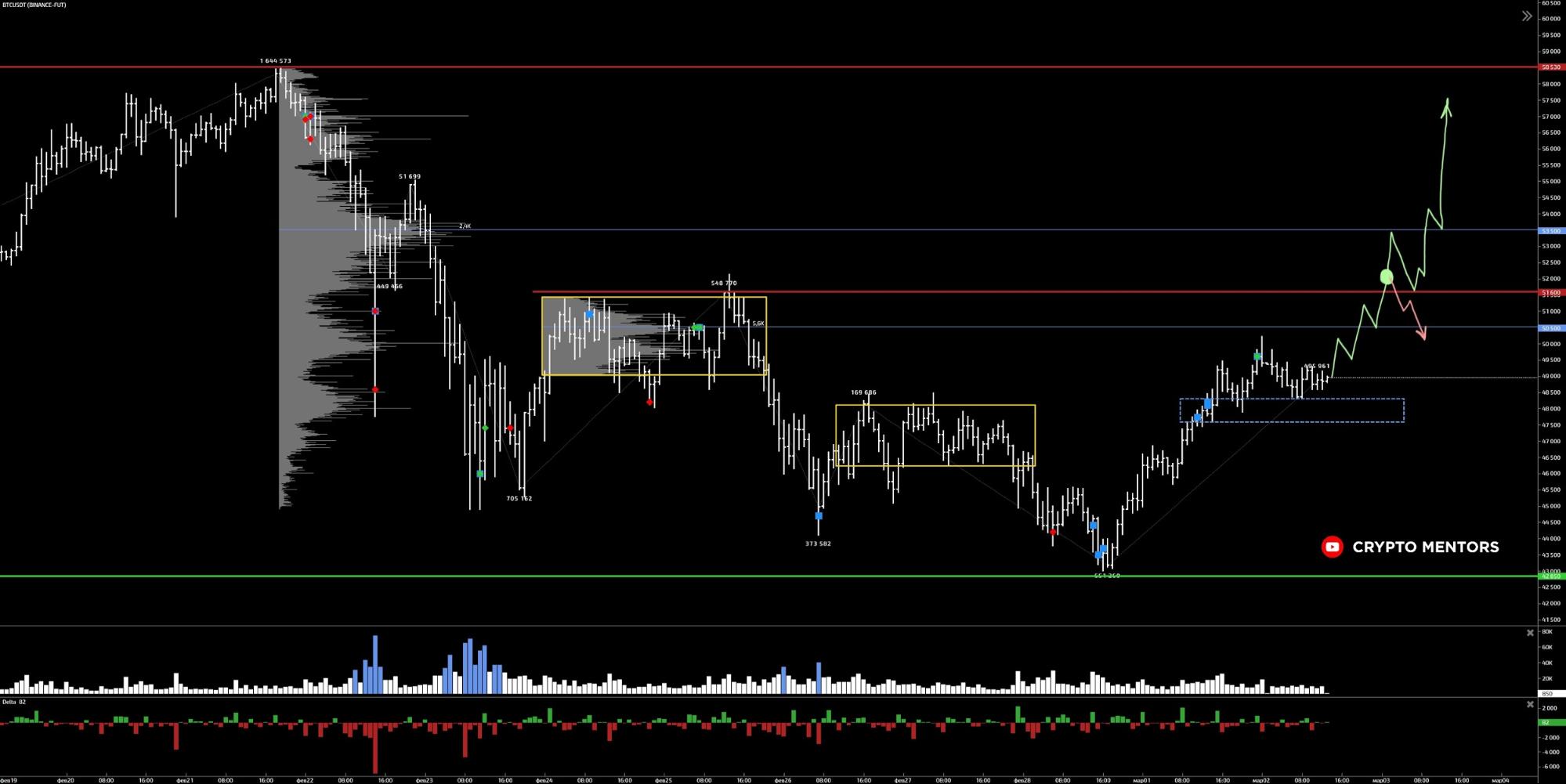 Despite the fact that in February the price maximum was renewed once again, the correction of the last week changed the alignment of forces.
First of all, you need to understand that now we are no longer at the stage of an uptrend correction. The phase changed to a balance sheet structure, the monthly volume distribution profile confirms this.
The current range limits are $ 43,000- $ 52,500.
Since we are in accumulation, we should act accordingly – expect rotation from the upper border to the lower one and vice versa.
We have already received a reaction from the lower level of $ 43,000 in the form of a volume "fill", as well as a flash of inefficiency in the delta, after which a corresponding reaction took place.
The price tends to the upper level of $ 51,750- $ 52,500. This range is both VAH and the bulk core of one of the more local auctions.
Price behavior in this area will be critical and will determine further developments in March. The highest priority scenario will be the breakout of this zone, consolidation followed by the expansion and renewal of ATH.
So far, it is impossible to unequivocally assert that this particular scenario will work out, so there is no need to rush into making decisions. Under certain conditions, we can equally as well bounce and go to the lower border of the global sideways trend, and make a false breakout.
It is a false exit and return to the range that will be the most short-term scenario, since there will be an extremely high probability of the balance expanding in the opposite direction, that is, below $ 43,000.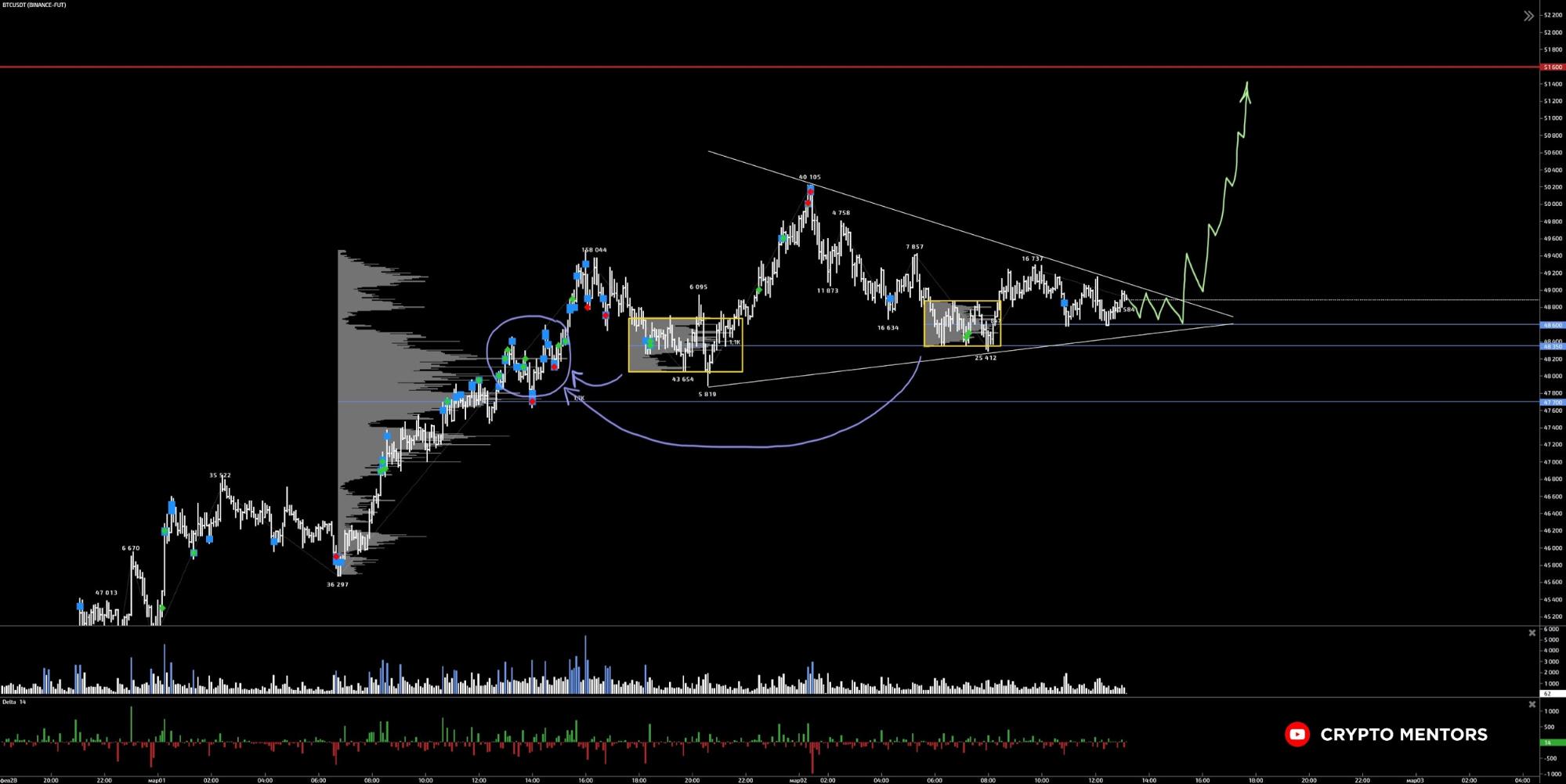 In the context of local dynamics, one can observe a narrowing of the trading range and a decrease in volatility, which heralds a powerful momentum. Considering that the global outlook shows a long up to $ 52,500, as well as the fact that we are supported by volumes from below, we expect an exit to the top.
Subscribe to the ForkLog YouTube channel!
Found a mistake in the text? Select it and press CTRL + ENTER